2012 Presentation
Jennifer's 2012 Presentation Topic:


Digitally Savvy: The Digital Sales and Marketing Supply Chain.
Come and join Jennifer Bagley, CEO of CI Web Group and speaker to learn how to master the technology, strategy, mindset and behavior necessary to develop a successful digital sales and marketing supply chain. Par is not good enough. It's time to push further than you can see, it's time to experience new results, it's time to grow and live your business, stop working in your business. The economy, the age, the marketplace, the future demands that you become… digitally savvy.
The areas of concentration within her new presentation are as follows:
TECHNOLOGY:
Web Sites
Blogs
CRM
Video
Marketing
Social Publishing
STRATEGY:
ROI Management Strategies for Web, Search, Social ad PPC
SEO – Organic Search
Content and Blogging
Meta Data
PPC – Paid Search
Social Media Marketing and Publishing
Calls to Actions and Conversions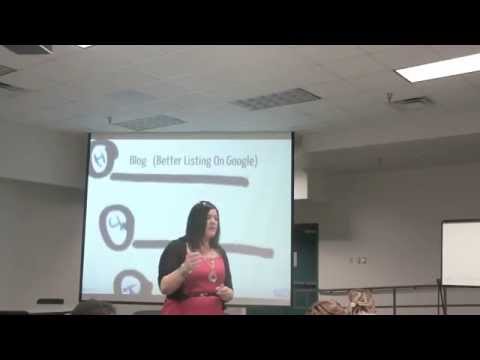 SALES MANAGEMENT:
Lead Management
Opportunity Management
Customer Management
Campaigns
Lists
Conversion Forms
Lead Source Management and Strategy
MARKETING:
Video Email, Video Marketing, Video Broadcasting Strategies
Effective Networking Strategies
Effective Referral Generation Strategies
Effective Strategic Partner Strategies
BEHAVIOR:
The Entrepreneur Mindset
Attitude
Behavior
Health impacts your results.
Jennifer has put together an amazing new program for 2012 and we are currently rolling this out with past event organizers who have requested Jennifer to speak in the past. Our program is designed to help attendees making quantum leaps and achieving results both in business and personally through increasing their technical skills, knowledge, learning, habits, disciplines, associations, networking and dozens of other key components – surrounding sales, marketing, lead generation, new client acquisition, digital marketing, search engine marketing, social media marketing and sales force automation. Your results will be the sum of how effective your technology, strategy and behavioral assets are. In order to excel, your mindset and network, must be equally as strong.
Our Goal: Help 1,000,000 small businesses move into the Digital Age.Additionally, Jennifer's management team has also agreed to waive her speaker fee for 12 events this year. If you are interested in applying for this waiver, please complete the following form. https://login.mothernode.com/webform.php?f=NLwFv0n
As you can imagine, Jennifer's calendar is already getting filled up quickly for 2012 speaking engagements and we want to make sure that we take care of existing clients first… so please let us know when you would like Jennifer to speak.
Jennifer has added multiple additional speakers to her team and is rolling out the following presentation.
The Digital Era: Technology, Strategy and Behavior – The Three Key's to Converting Time to Cash
Over the past year, our program has grown to include the complete sales supply chain, introducing new pieces of necessary technology and strategy into our program. Additionally, Jennifer has spent the past 6 months studying the effects mindset, behavior and health have on performance, as entrepreneurs, sales professionals and business owners.
Our team of speakers include:
Jennifer Bagley, CEO of CI Web Group
Over 15 years of business strategy, supply chain management, marketing, SEO, internet marketing, social media and technology, Jennifer can connect more people with the life-changing distinctions, strategies and best practices from several years of helping companies get faster results. Jennifer personally coaches and consults for dozens of enterprise clients and has trained and coached thousands of small businesses in a group environment for over 10 years.
Keith Morales, VP of Business Development with CI Web Group
Keith has over 20 years of professional sales, leadership and negotiations experience across dozens of industries including real estate, finance, technology and retail. Keith brings a balance of life and business strategies to the table to help business owners achieve whole life balance and completeness.
Michael Thelwell, VP of Strategic Partnerships and Training for CI Web Group
Mike is a retired 20 year vet from the United States Army. He has over 20 years in the medical profession managing, leading and training thousands of civilians and soldiers. His leadership skills help people acquire the right midset and mental strength necessary to achieve accelerated results through mental, physical and emotional strength, dedication and determination. His ability to help people create routines within their daily living to improve health, knowledge and focus has been instrumental within the organizations he served and the people he has lead.
Ken Pearson, CEO of Mothernode – ERP and CRM Company:
Ken is an expert in powerful on-demand application modules and components designed to increase Sales Force Automation (SFA) giving individuals and sales teams the tools they need to better mange their customers, sales pipelines and activities.
Earl Mann, CEO of ComF5, video, mobile and live broadcasting company:
Earl combines his passion for personal growth and team building, with his love for business innovation & technology. He has a degree in psychology from the University of South Carolina. Has served in both the US Navy and as an Officer of Marines. His corporate experience includes marketing online market research and Business Intelligence services , real time news and business intelligence systems, Knowledge Management systems and tools, Advanced Search and Retrieval technologies, and Recruiting, Onboarding and Sourcing solutions. He currently is the CEO of a multi-million dollar video marketing, video broadcasting, mobile marketing and technology solutions company.
Presentation and Delivery: One or more sections of this program can be implemented in the following formats.


A Keynote
A Breakout session
A high level impact session (20 minutes to 2 hours)
A ½ day + Workshop
A Sales Training Series
A Quarterly Sales Training Series
An Annual Convention or Training
The program can be customized to fit your needs. If you have any questions or would like to discuss further, please do not hesitate to contact Jennifer's Event Manager, Kathy Marshall at 877-839-1122 X 305.